This post is inspired by Kate McKean's recent newsletter article, which I thought was a great way to visualise, rather than just list, books read last year.
I read 50 books in 2022, which makes me very happy. It's been a hard year at work and in my personal life, but I've still found time for reading. That's an average of almost a book a week — though I definitely squeezed a final few in there over Christmas to give a satisfying round number.
Genres
58% fiction, 42% non-fiction. I'm not surprised that sci-fi tops the list of fiction, nor by the tie between fantasy, horror and literary fiction. I haven't done this kind of analysis on previous years, but that pretty much aligns with my gut instinct about my reading tastes. More unusually for me, thriller/crime are >0% — I'm trying to branch out a bit into what is usually a dull genre for me. My guess is that I'm drifting year-on-year from a fiction-dominated appetite to something more balanced.
A closer look at non-fiction
Looking closer at non-fiction, it's obvious that 'Craft/Creativity' was a hot topic for me. These were mostly books about writing or about artists. I've enjoyed reading more essays and memoir this year, and my reading list for 2023 is leaning into that. Self-help reading centred around creativity, productivity and introversion/sensitivity.
Book formats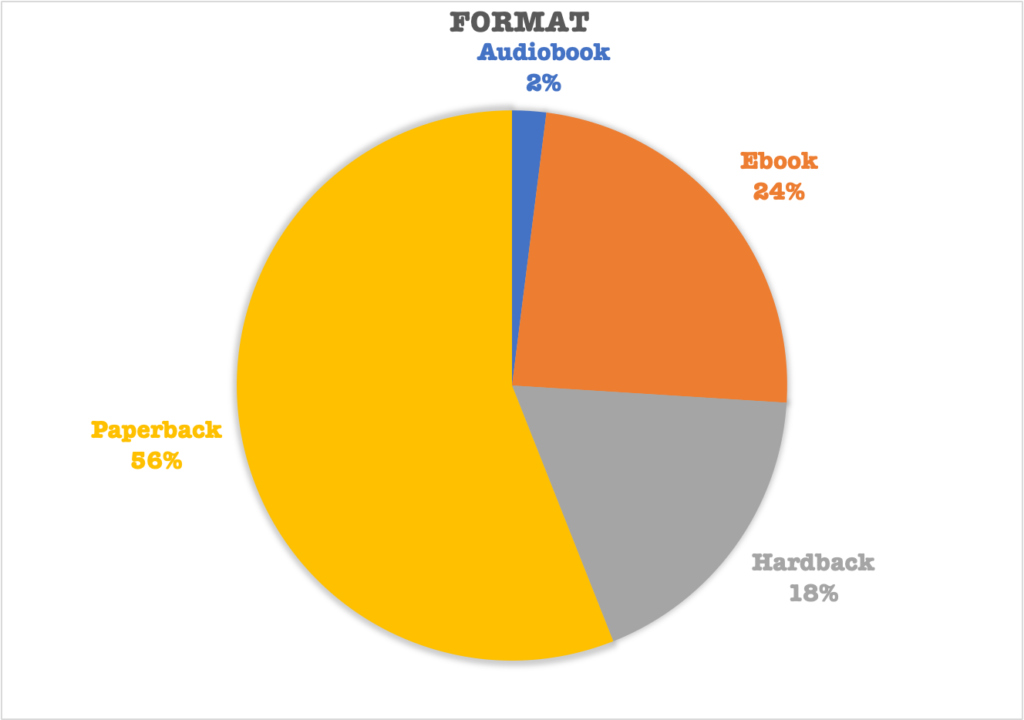 I'm shocked by how few audiobooks I listened to this year. Over the last 10 years I've usually had an audiobook on the go most of the time. But this year I've been listening to so many podcasts that I haven't really had time for audiobooks. 24% ebooks sounds about right, though also might be a reduction from previous years. I do tend to mostly read paperbacks, so there's no surprises here, but there are definitely more hardbacks than I anticipated (lots of these were gifts — if friends/family are reading this, yes please, more hardbacks for my birthday next year).
Minority voices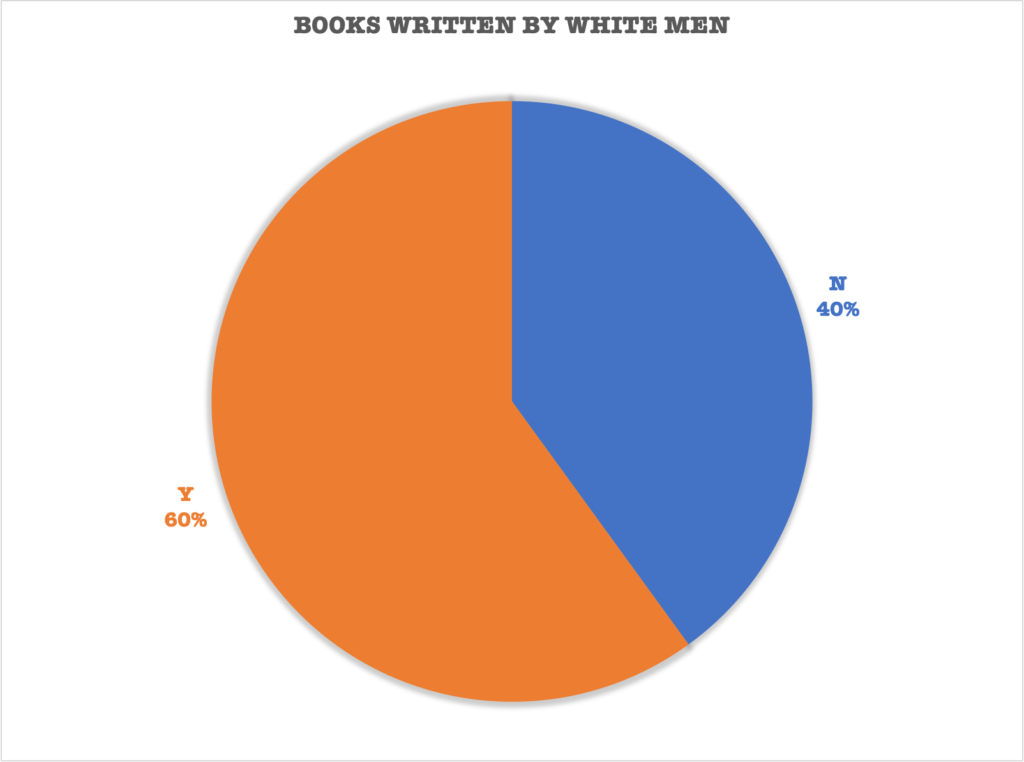 This analysis is definitely reductive. I haven't researched people's identities in detail. In any case, artists shouldn't have to divulge details of their personal lives to further their careers. I've gone with 'white and/or cis-gender male' as the easiest questions to answer. A 60/40 split isn't bad, but it's not brilliant either. I think it's better than previous years, but the trend will be clearer if this analysis gets repeated in future years.
Completed vs partial reads
I count books as 'read' on my log even if I don't read them cover to cover. Sometimes books lose momentum or I lose interest, but I still feel that I've absorbed the essence of the book. As a rule of thumb, if I get more than halfway, I'll count it. But it looks like I read 84% of books cover to cover this year. That's 42 books completed, 8 partial reads.
---
For reference, here's the list (see the Book Log for previous years):
The Apollo Murders by Chris Hadfield
Mockingbird by Walter Tevis
Shadow and Bone by Leigh Bardugo
Save the Cat! by Blake Snyder
It Happened in 'Loontown by Lavie Tidhar (short story)
The City We Became by N. K. Jemisin
H is for Hawk by Helen Macdonald
The Firmament of Time by Loren Eiseley
Siege & Storm by Leigh Bardugo
This Is Water by David Foster Wallace
Man's Search for Meaning by Victor Frankl
Appropriate by Paisley Rekdal
Why I Write by George Orwell
The King in Yellow by Robert Chambers
The Fisherman by John Langan
The Remains of the Day by Kazuo Ishiguro
The Reason I Jump by Naoki Higashida
Bullshit Jobs by David Graeber
The Science of Storytelling by Will Storr
Humankind: A Hopeful History by Rutger Bregman
Odyssey by Jack McDevitt
Dark Eden by Chris Beckett
Other Minds by Peter Godfrey-Smith
The Darkest Minds by Alexandra Bracken
Into the Drowning Deep by Mira Grant
Art Matters by Neil Gaiman and Chris Riddell
1Q84: Book Three by Haruki Murakami
A Short Stay in Hell by Steven L. Peck
The Subtle Art of Not Giving a Fuck by Mark Manson
Permission to Screw Up by Kristen Hadeed
Lord of Light by Roger Zelazny
Ruin and Rising by Leigh Bardugo
What It Is by Lynda Barry
The Stormlight Archive: The Way of Kings by Brandon Sanderson
Acceptance by Jeff VenderMeer
Several Short Sentences About Writing by Verlyn Klinkenborg
Mistborn: Alloy of Law by Brandon Sanderson
Stories of Your Life and Others by Ted Chiang
Howl's Moving Castle by Diana Wynn Jones
Refuse to Be Done by Matt Bell
Metazoa by Peter Godfrey-Smith
Creating Short Fiction by Damon Knight
When We Cease to Understand the World by Benjamín Labatut
The Long Way to a Small, Angry Planet by Becky Chambers
The Wandering Earth by Cixin Liu
Daily Rituals: Women at Work by Mason Currey
Knots and Crosses by Ian Rankin
Ringworld by Larry Niven
Cauldron by Jack McDevitt
Notes from the Underground by Fyodor Dostoyevsky